The 9th annual
Pangos All-American Camp
will be held on
Friday-Sunday June 3-5, 2011 @ Cal State Dominguez Hills (Carson CA).
  The camp will be held in Carson CA this year due to water damage to the Cabrillo High School (Long Beach CA) gym floor which is not expected to be repaired in time for this year's camp.
Out-of-area campers and media will be staying overnight at the beautiful 374-room
Renaissance Long Beach Hotel
as well as the 4-star
Hotel Avia
in downtown Long Beach overlooking the Pacific Ocean and within walking distance of dozens of restaurants, lounges, clubs, theaters and shops.
More info about the Renaissance Long Beach Hotel can be found online at:
http://www.marriott.com/hotels/travel/lgbrn-renaissance-long-beach-hotel/
This year's camp will be headlined by the Top 3 prospects in the national 2012 class: 6'6"
Shabazz Muhammad
(Bishop Gorman/Las Vegas NV), 7'0"
Isaiah Austin
(Grace Prep/Arlington TX) and 6'10" 
Andre Drummond
(St. Thomas More/Oakdale CT).  Other elite top national players scheduled to join this terrific three-some include 2012 stand-outs
Grant Jerrett
,
Brandon Ashley
,
Archie Goodwin
,
Tony Parker
,
Marcus Paige
,
Ricardo Gathers
, Shaq Goodwin,
Savon Goodman
,
Gabe York
, Kris Dunn,
Nino Jackson
,
Tyler Lewis
,
Katin Reinhardt
,  Robert Upshaw, Anthony Bennett,
Xavier Johnson
,
Torian Graham
,
Rosco Allen
, 
Winston Shepard
, Jordan Goodman, Stefon Jankovich, Adam Woodbury,
Sim Bhullar
,
Dominic Artis
, Charles Mitchell, Zena Edsowoman, Nick Stauskas, Alex Caruso, Jordan Tebbutt, Negus Webster-Chan, Ben Carter and Demetris Morant, 2013 stars Chris Thomas,
Aaron Gordon
, Kuran Iverson,
Jabari Byrd
, Ikenna Iroegbu, Isaac Hamilton, Nigel Goss-Williams, Tyree & Tyrel Robinson,  Eric Cooper, Stephen Domingo, Treshaun Bolden and Maurice Kirby, 2014 prospects Stanley Johnson and Shaqquan Aaron and special 2015 talents Tyler Dorsey, Horace Spencer, Malik Newman, Stephen Zimmerman and Karl Towns.
Several more top players are in the process of being confirmed.
This national camp has served as a "coming out" party for many top past and current HS all-americans and well as a showcase for many more national "sleepers". The last five camp MOPs have been
James Harden
(Arizona State/Oklahoma City Thunder/2009 NBA Draft #3 pick),
Brandon Jennings
(Milwaukee Bucks/2009 NBA Draft #10 pick)
, John Wall
(2008
Rivals.com #1 player/
Kentucky/ #1 pick of the 2010 NBA Draft),
Harrison Barnes
(
Scout.com & ESPN.com's
#1 2010 player/North Carolina) and
Myck Kabongo
(
ESPN.com
Class of 2011 #10/Texas signee).   The nation's #1 2011 prospect
Anthony Davis
,
Quincy Miller
,
Brad Beal
,
DeAndre Daniels
and
Quinn Cook
were also Top 25 Game selections last year.
Dave Miller (formerly a New Orleans Hornets Assistant Coach for Player Development and 20 year-plus NCAA Division I assistant) will again be on hand to be the "Lead Camp Instructor".  Legendary Tom "Tootie" Cirincione (of ABCD Camp fame) will also be present to provide campers with seasoned skill instruction.

The event is an invitation-only event and only top nationally ranked players will be invited. The camp is open for viewing to the public. There is no admission charge.

As has been the case in past years, a large contingent of national/regional media and scouts are expected to attend. Media/scouts attending last year include Dave Telep, Paul Biancardi and Joel Francisco (ESPN.com), Evan Daniels (Scouthoops.com), Jerry Meyer and Eric Bossi (Rivalshoops.com), Van Coleman (Hot100Hoops.com), Clark Francis (Hoop Scoop), Frank Burlison (Long Beach Press -Telegram), Brick Oettinger and Rob Harrington (PrepStars.com), Ronnie Flores (ESPNRise.com), Patrick Stanwood (Nothing But Net Magazine) and Sean Ceglinsky (ESPNLA.com), Thom Jones (TJ Sports), Victoria Sun (Associated Press), and Matt Rodriguez (BallisLife.com).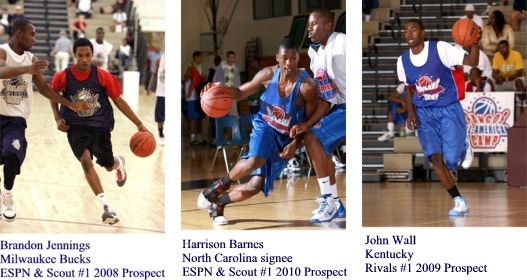 Besides the players mentioned above, other past camp standouts include NBA draft picks like DeMar DeRozan (Toronto Raptors), Robert Swift (Oklahoma City Thunder), Dorrell Wright (Golden State Warriors), CJ Miles (Utah Jazz), Kyle Lowry (Houston Rockets), Arron Afflalo (Denver Nuggets), Javaris Crittenton (Washington Wizards), Jared Dudley (Phoenix Suns), Russell Westbrook (Oklahoma City Thunder), JJ Hickson (Cleveland Cavaliers), Jarryd Bayless (Toronto Raptors), Anthony Randolph (New York Knicks), Kyle Weaver (Oklahoma City Thunder), Jrue Holiday (Philadelphia 76'ers), Austin Daye (Detroit Pistons), Jordan Hill (Houston Rockets), Jeff Pendergraph (Portland Trailblazers), Taj Gibson (Chicago Bulls) Gabriel Pruitt (Boston Celtics), Derrick Favors (New Jersey Nets), Gani Lawal, (Phoenix Suns), and Quincy Pondexter (New Orleans Hornets), as well as current college stars that fill rosters at such elite schools as 2010 NCAA champ Duke, North Carolina, Florida, UCLA, Memphis, Texas, Kansas, UConn, Arizona, USC, Stanford, Michigan State, Kentucky, Washington State, Louisville, Georgetown, North Carolina State, Arizona State, Washington, Cal, Georgia Tech, Baylor, Oklahoma State, Villanova, Texas A&M, Marquette, Oregon State, Florida State, Michigan, Tennessee, Gonzaga, Oregon, Georgia, Miami FL, Alabama, UNLV and Louisiana State.


2011 CAMP SCHEDULE
Friday June 3, 2011

1:00pm - 5:00pm Hotel Check-in @ Renaissance Long Beach Hotel
5:45pm – 6:00pm Bus leaves for Cal State Dominguez Hills
6:00pm - 6:45pm Dinner at Cal State Dominguez Hills
6:00pm - 7:00pm Camp Registration and Gear Distribution @ Cal State Dominguez Hills
7:00pm-7:15pm Opening Remarks/Instructions
7:15pm - 8:30pm Individual Instruction - Dave Miller (former NBA/NCAA assistant)
8:30pm - 9:15pm Camp Games – 3 courts (ACC Round 1)
9:15pm-10:00pm Camp Games- 3 courts (Pac-10 Round 1)

Saturday June 4, 2011

9:00am-10:00am Breakfast at Roscoe's Chicken & Waffles (for overnight campers)
11:45am Depart hotel (via shuttle) to Cal State Dominguez Hills
12:00pm - 1:00pm Lunch at Cal State Dominguez Hills
12:30pm - 1:00pm   Shooting Instruction - Tom Cirincione
1:00pm – 1:30pm Strength & Conditioning work-out – Steve Campbell
1:30pm-3:00pm Individual Instruction - Dave Miller (former NBA/NCAA assistant)
3:00pm - 4:00pm Camp Games – 3 courts (ACC Round 2)
4:00pm - 5:00pm Camp Games – 3 courts (Pac-10 Round 2)
5:00pm - 6:00pm Dinner at Cal State Dominguez Hills 
6:00pm - 6:40pm Recruiting Roundtable (Q&A with national scouts)
6:40pm - 7:35pm Camp games – 3 courts (ACC Round 3)
7:35pm - 8:30pm Camp games - 3 courts (Pac-10 Round 3)
9:45pm-12:00am Media Reception @ Hotel Avia Rooftop Deck

Sunday June 5, 2011

8:00am-8:45am Breakfast @ hotel
8:45am Depart (via bus) to Cal State Dominguez Hills
9:00am - 10:00am Camp games – 3 courts (ACC Round 4)
10:00am - 11:00am Camp games - 3 courts (Pac-10 Round 4)
11:00am - 11:30am Announcement of All-Star Teams/Final Remarks
11:30am - 12:30pm "Cream of the Crop" Top 40 Game
12:30pm - 1:30pm "Cream of Crop" Top 20 Game
1:30pm - 2:00pm Campers depart/transport out-of-state campers to airport


For more information or to request media credentials, contact camp director Dinos Trigonis at (562) 248-2448 or by e-mail: trigonis30@aol.com